To get started with the
Boundless Licensing Dashboard
, you must have received your login details by email. If you haven't yet gotten these details please reach out to your contact at Boundless.
First time log in
To get started with Boundless Licensing, you can begin by entering the credentials you've received via email. You will not need to enter your API key at this stage.
License Management Dashboard
Upon logging in, you'll be directed to the main dashboard. Here you'll be able to see all of the Cisco Meraki organizations you have access to.
You can scroll through to view everything and provide different filters to see different sets of data.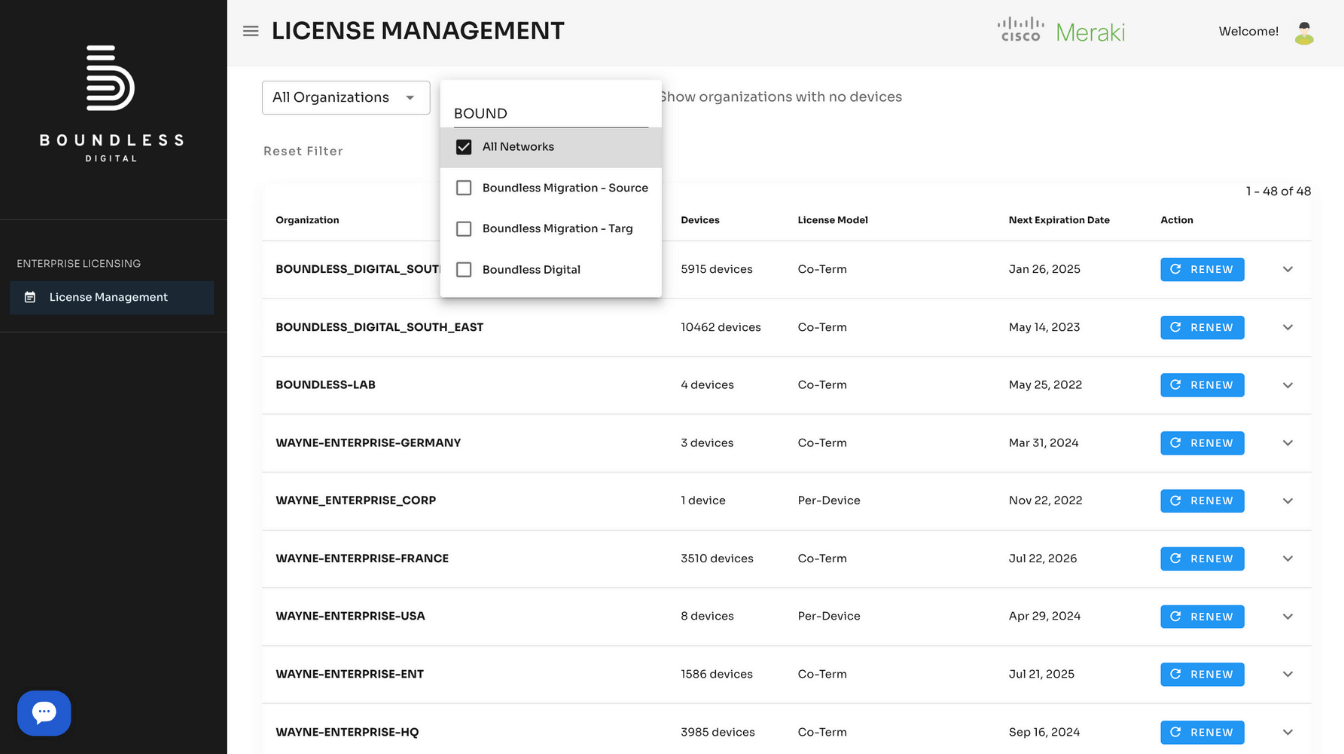 To explore more details about any given organization, click the downward arrow placed on the far right of your screen.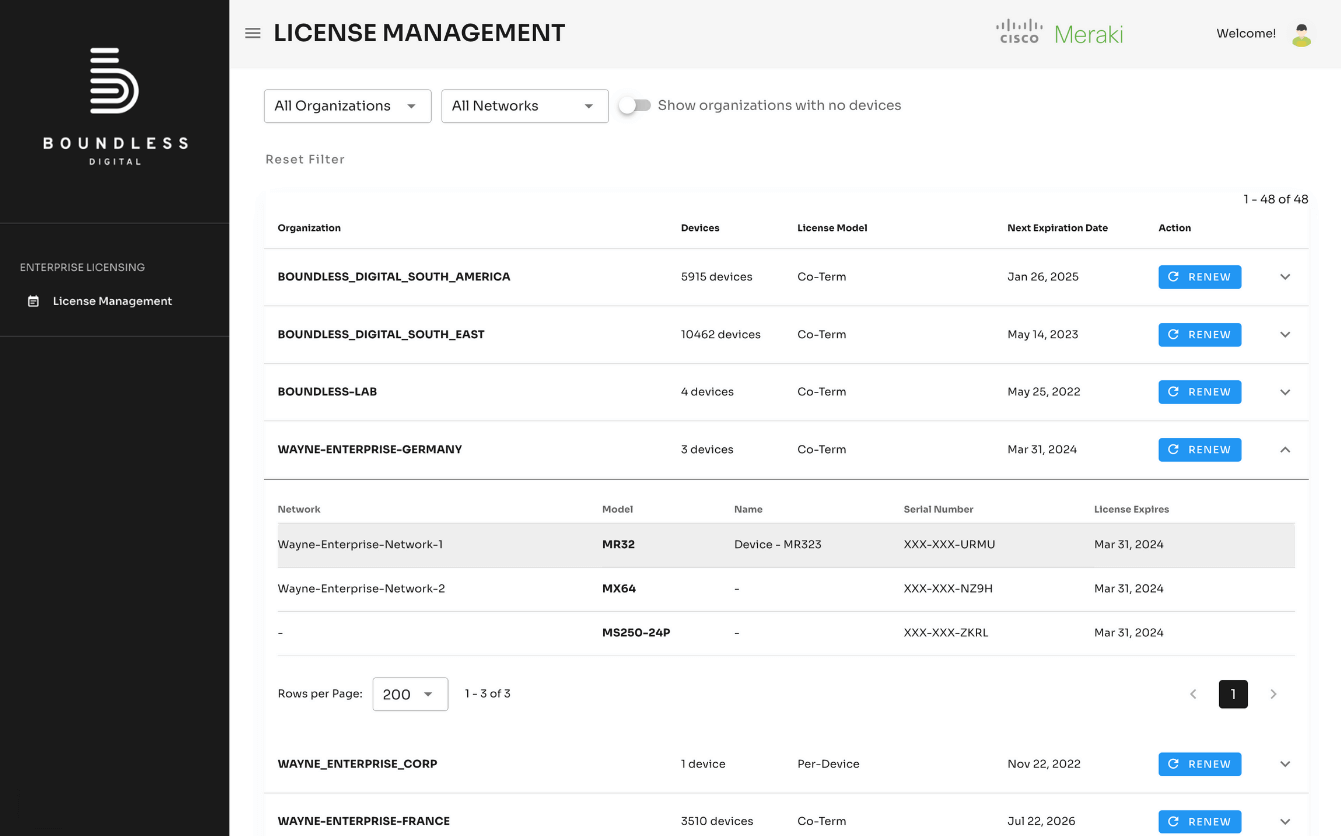 License Renewal
For organizations with a Per-device licensing model, you have the ability to choose which devices you wish to renew, whereas all devices are autoselected for organizations with the Co-term licensing model to avoid miscalculations for expiration dates.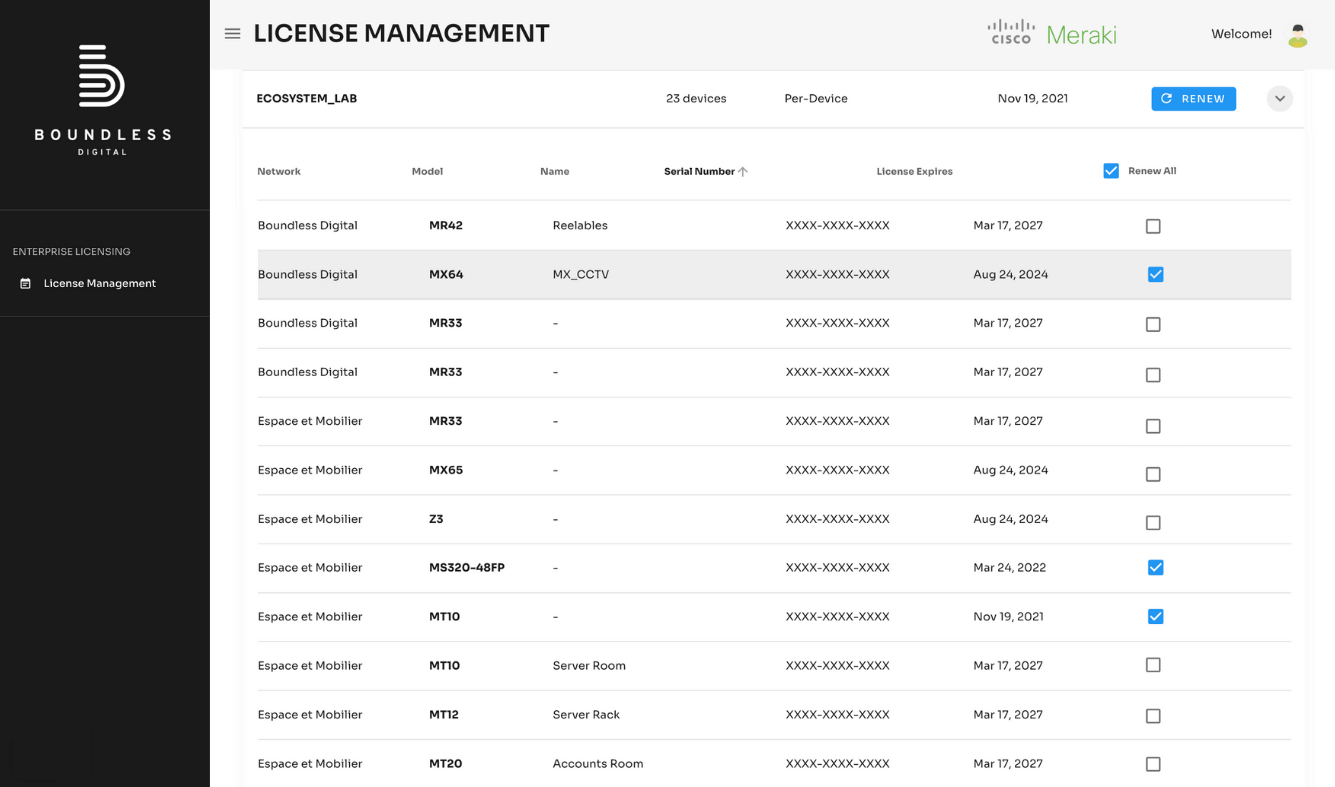 Once you've selected the licenses, clicking the renew button will take you to your cart. Here you can change the license durations and editions based on what you'd like to order. This will dynamically change the total price so you can compare different outcomes.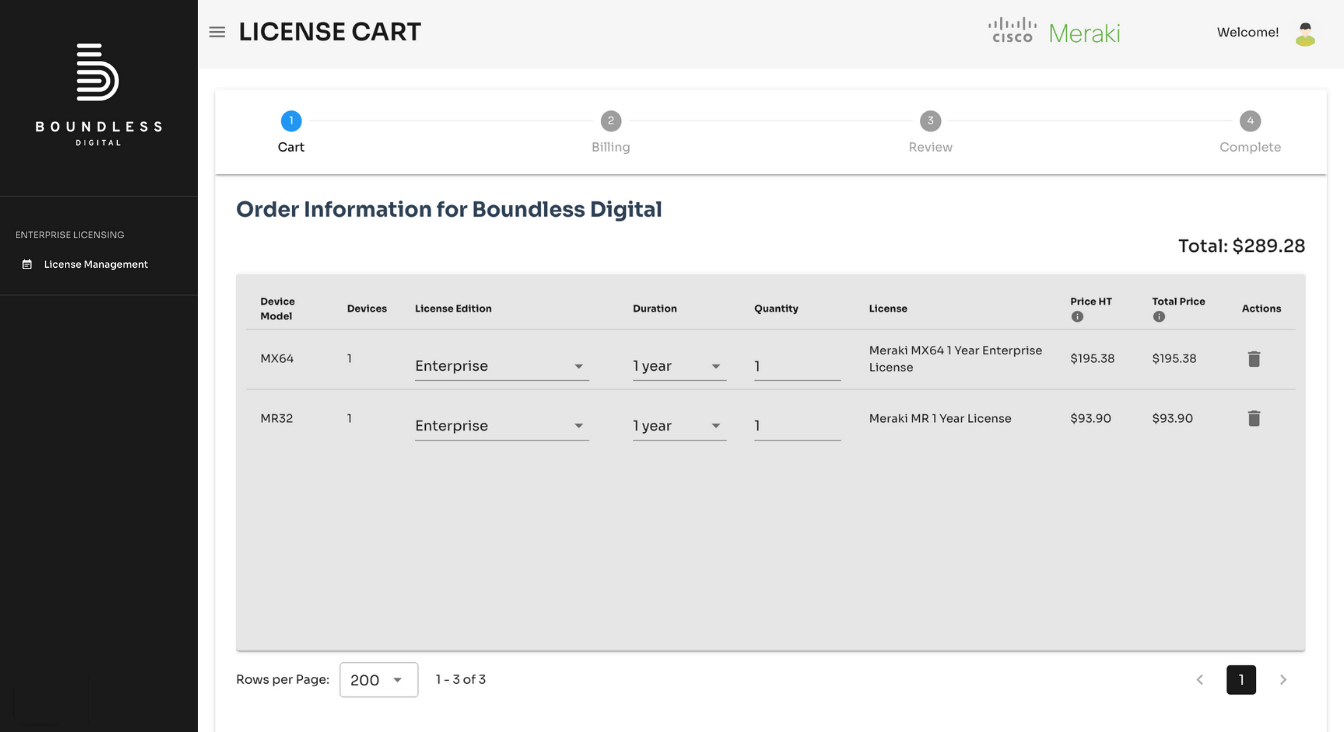 The Boundless Licensing Dashboard uses the Meraki API to draw in all the data about your devices and licenses so you don't have to enter any of this manually. We do however encourage you to make sure you've ordered the correct license edition for MR and MX devices.
Once you've finalized your cart with the correct order and organization information, you can simply click on the Continue to Billing Information button, which will directly take you from the Boundless Dashboard to Rhino Networks, our distribution partner.
Note that entering the organization information and address is absolutely critical for Cisco Meraki to process any order.
Placing an order with Rhino Networks
The cart will be auto generated for you here based on the information you entered in Boundless. Simply click on checkout here and follow the payment instructions to order your licenses. Although you can continue as a guest user, we encourage you to create an account as this will allow you to qualify for further discounts later on.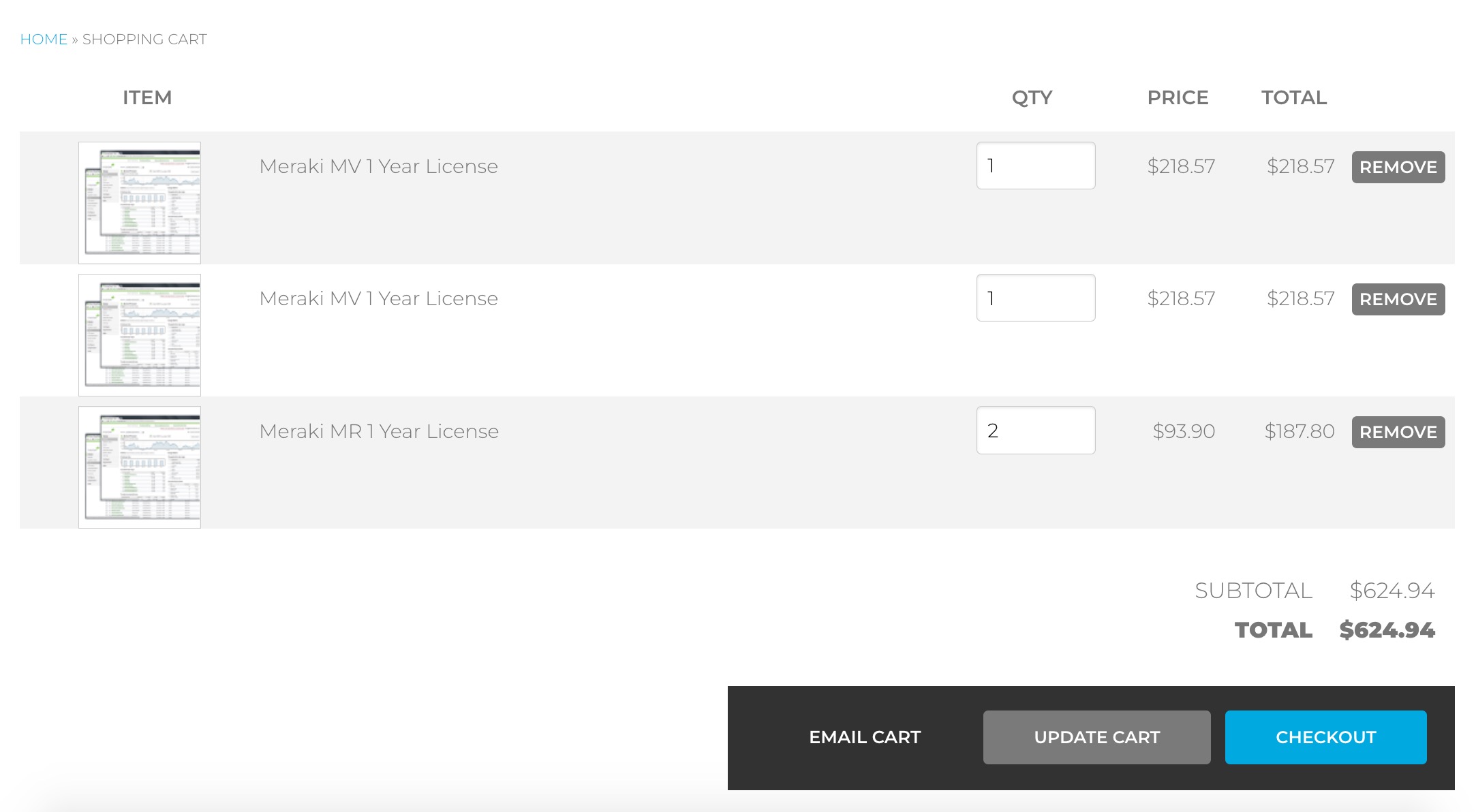 Your license order will be immediately processed by Rhino Networks and you will receive a confirmation email soon after. As soon as the license is confirmed by Cisco Meraki, it will be emailed to you directly. This is usually within 48-72 hours of the order being placed.
Claiming an order
Cisco Meraki order confirmations and order numbers will be delivered via an email to the shipping contact when the order is fulfilled.
To claim an order processed through Boundless Licensing and Rhino Networks, you need to proceed as you typically do.
Orders can be claimed from the Organization Inventory section in the dashboard, via Order Number. For orders containing only a license key and no serial numbers, the license key must be claimed via Organization > Configure > License Info > Add another license.
For more information on how to claim licenses in Meraki read this article.
Get in touch with our team
If you run into any problems after the order has been placed, you can contact either Rhino Networks or Boundless Digital for assistance.
For faster support and general questions, simply click into the chat button in the bottom right, and your questions will be answered by the first team member available.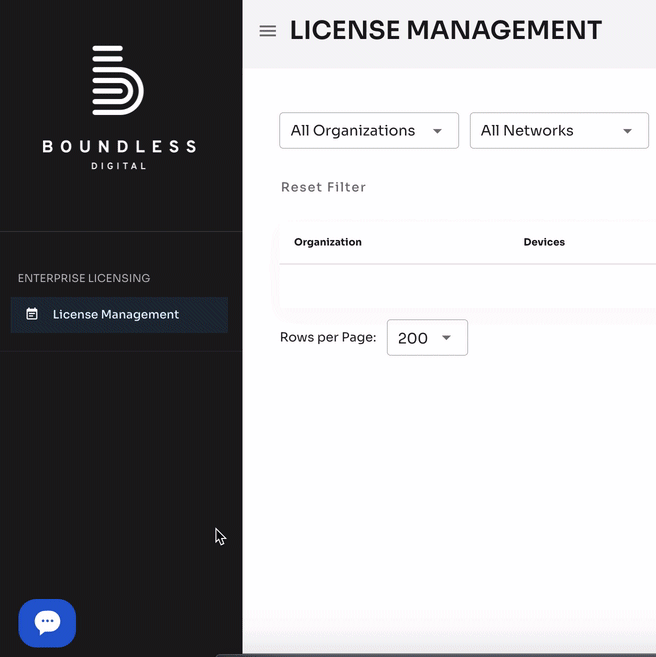 End of trial period
Be sure to reach out to your sales rep before the end of your trial period if you wish to continue using Boundless Licensing.