Overview
Here we'll go through all the tools available on the splash page configurator, so you can customize the page exactly as you'd like.
After going through this article you'll know how to design your own pages, choose your authentication method and test out your pages before you publish them!
Pre-requisites
You must have created your workspace on Boundless Guest before you create a new splash page.
Description
Step 1 | Create a new Splash Page
To begin creating a splash page, head over to the Splash Pages tab. Here you can see a list of all the pages created in your workspace.
Click on New Splash Page to begin the process.
You have the option of choosing to configure your own page or requesting a custom project.
A custom project can be requested if you have a more complex splash page you wish to have developed, but we recommend exploring the configurator for yourself!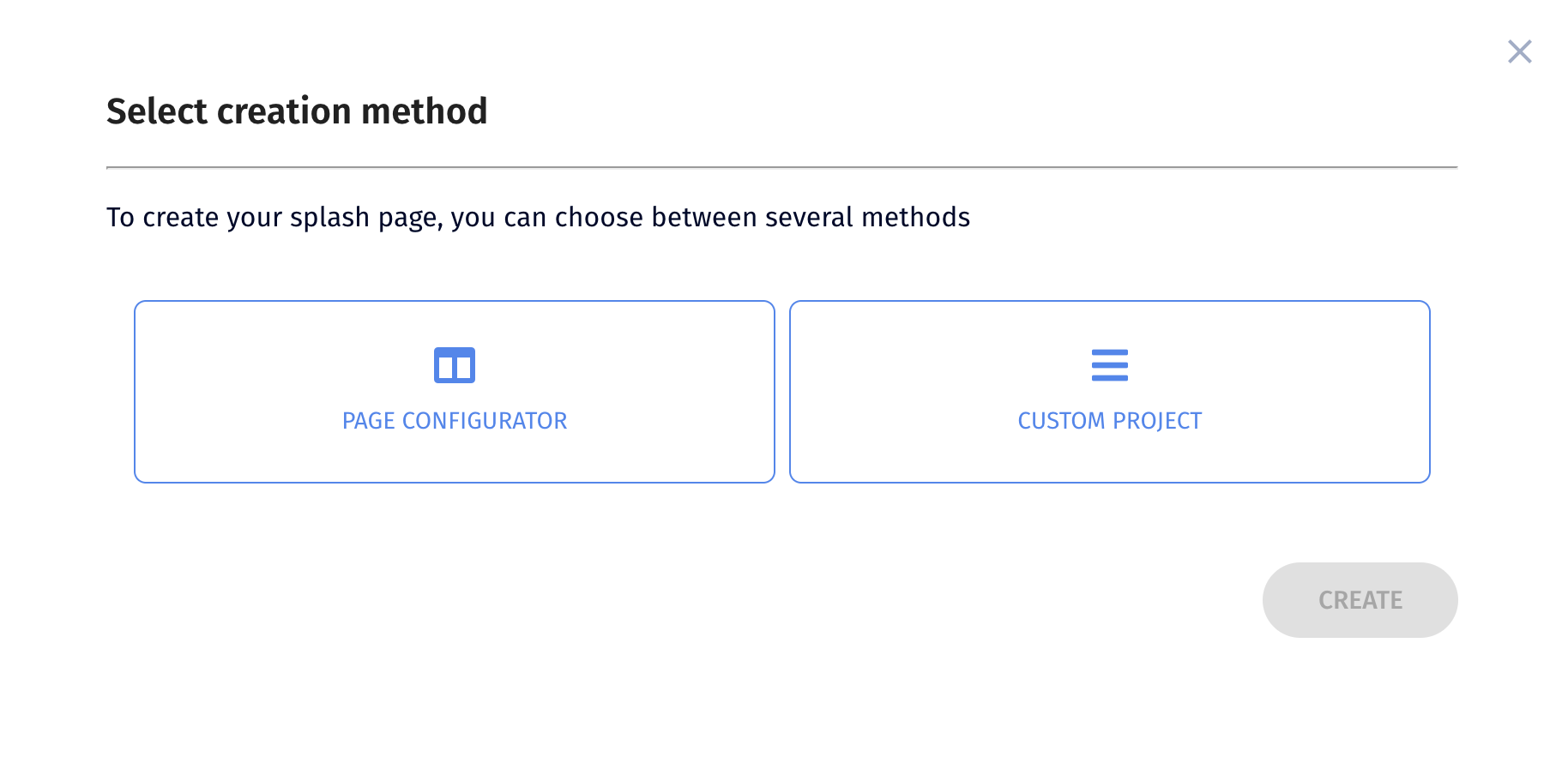 Once you click Create, you will automatically be taken to the Page configurator, details on the configurator are included below.
Step 2 | Launch the configurator
Upon creating a new splash page, the configurator should open up automatically unless you choose a custom project.
Although this may seem daunting at first, we're here to walk you through every step of the way!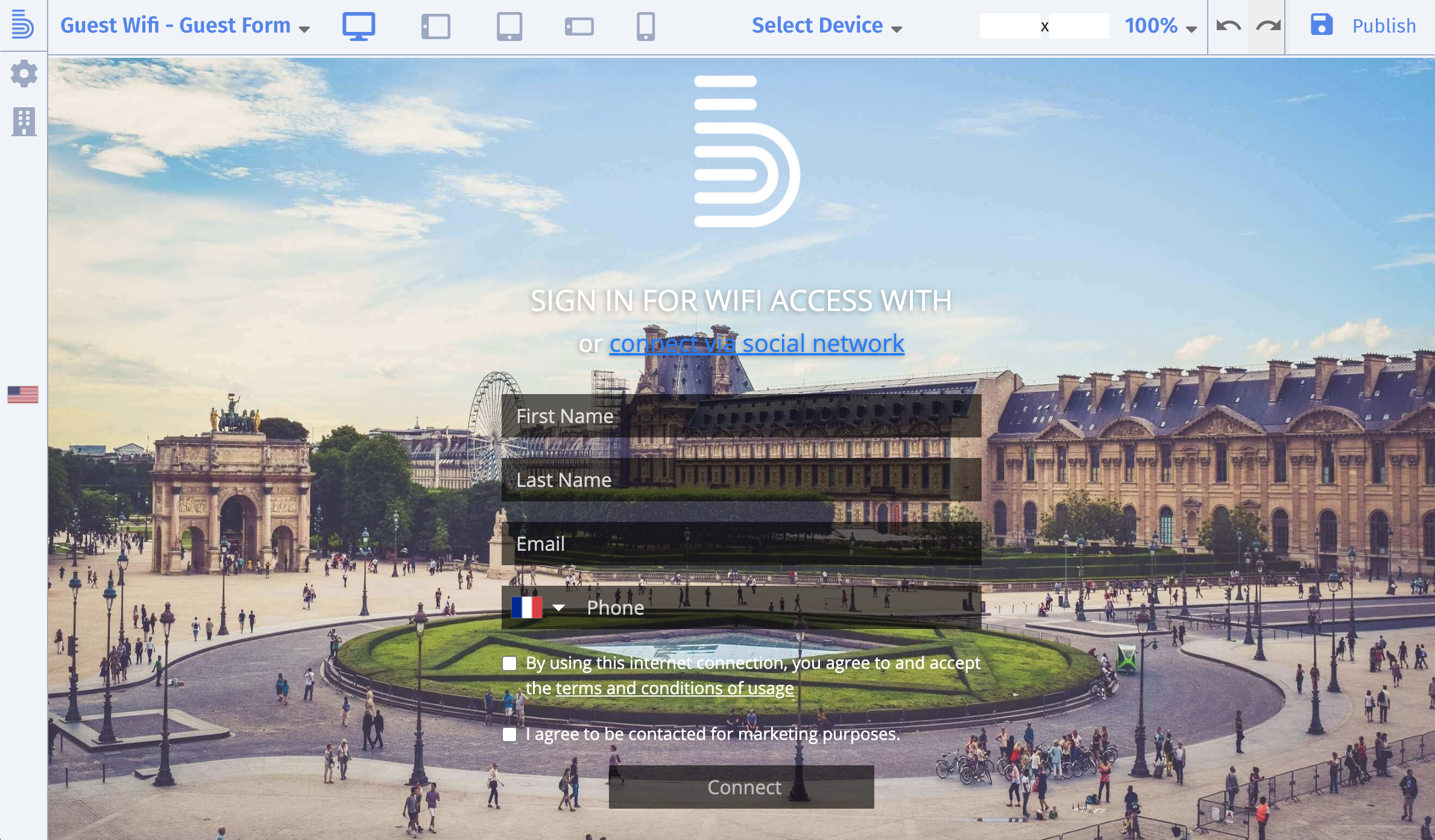 Step 2.1| Start Editing
Make sure you publish your splash page at the end of this process, otherwise it will not be saved!
Let's start simple, you can change the background for your splash page by clicking on the workspace button highlighted below.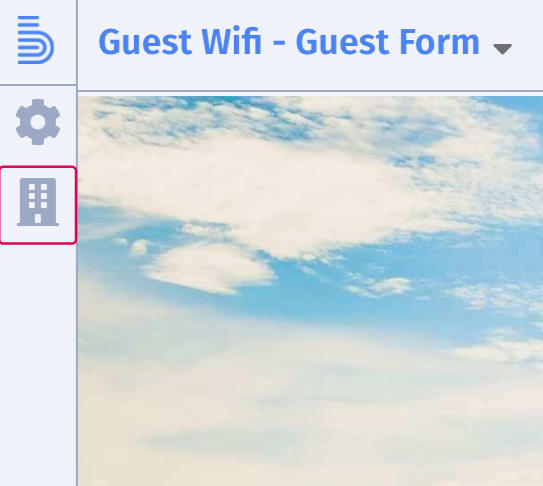 Simply click on page background to open editing tool.
On this tool you can select what kind of background you'd like, and choose a custom background by uploading an image to your media library.
Step 2.2 | Change your settings
Next, let's take a look at the settings menu. Since this one is important, we'll go into some detail!
Clicking on the gear shown above will open up the settings menu.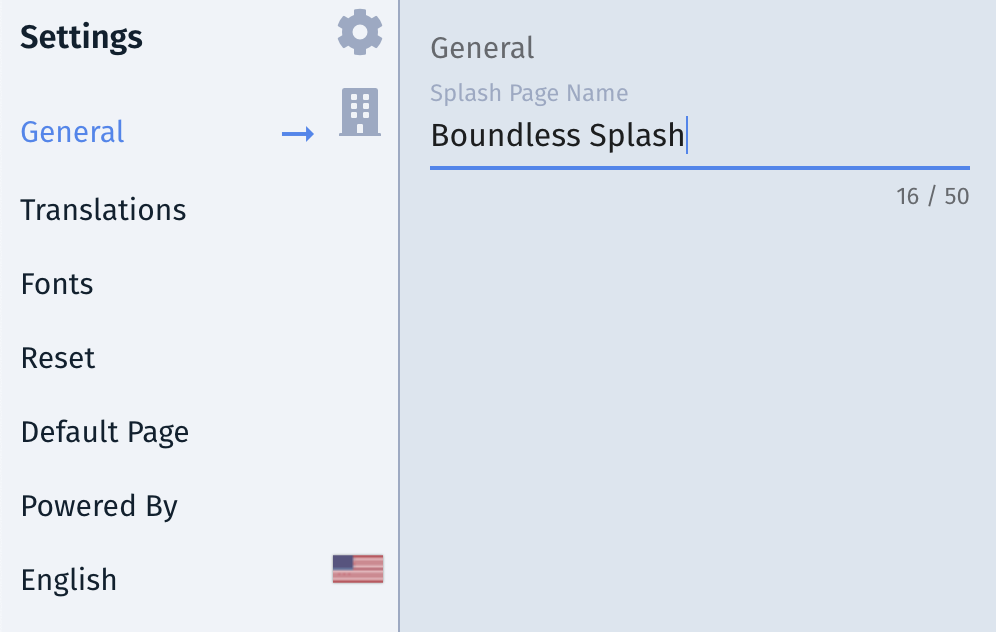 In the general settings, you can change the name given to your splash page.
Clicking on the Translations tab will open up a window where you can choose which languages to support.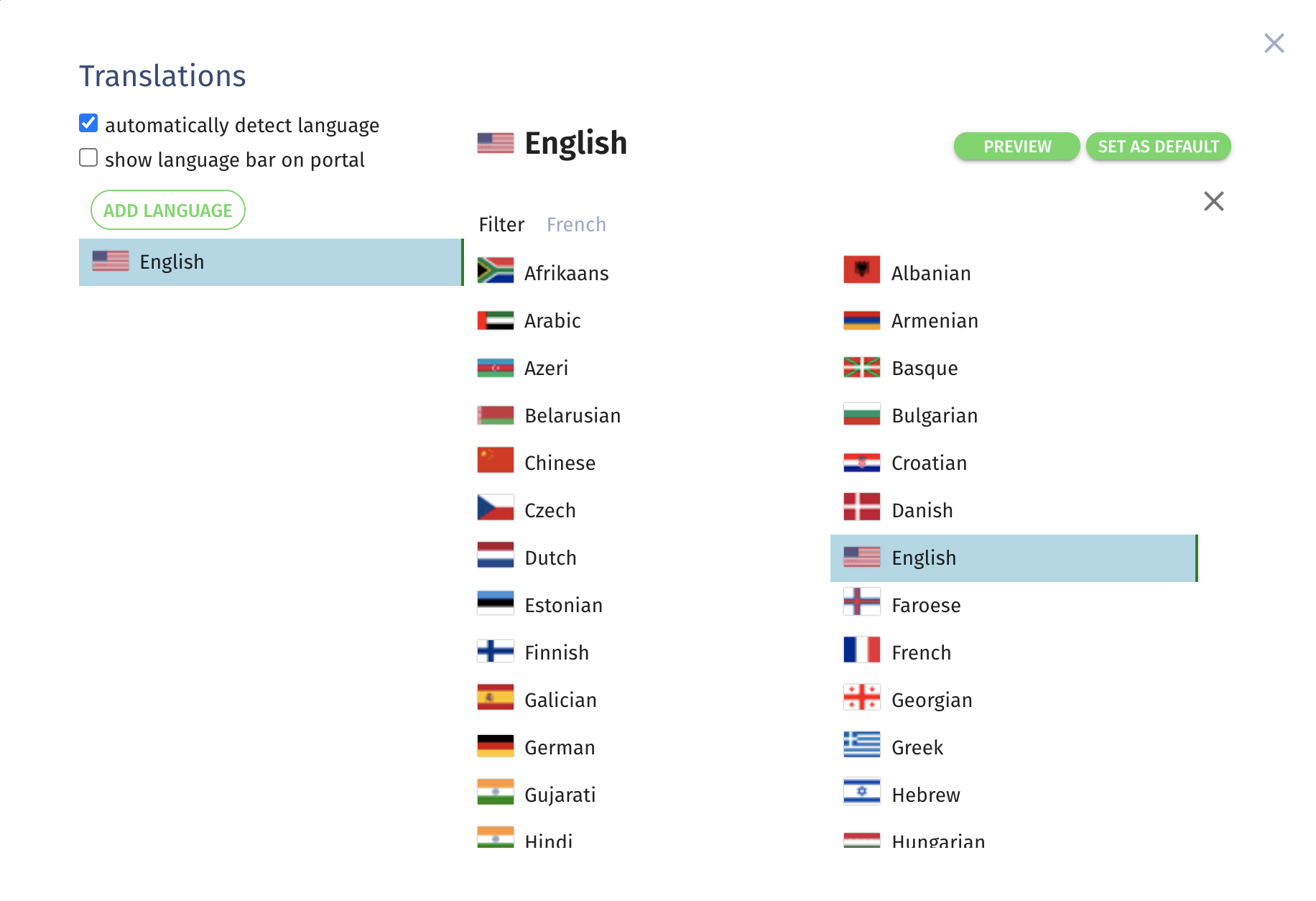 We currently support most languages. You can always make a request if you don't see yours here!
The fonts section allows you to choose the fonts that will be available in your splash page.
You can press the reset button if you wish to start from scratch!
Next, let's take a look at the Default Page tab, which allows you to choose which type of captive portal will be displayed to your users.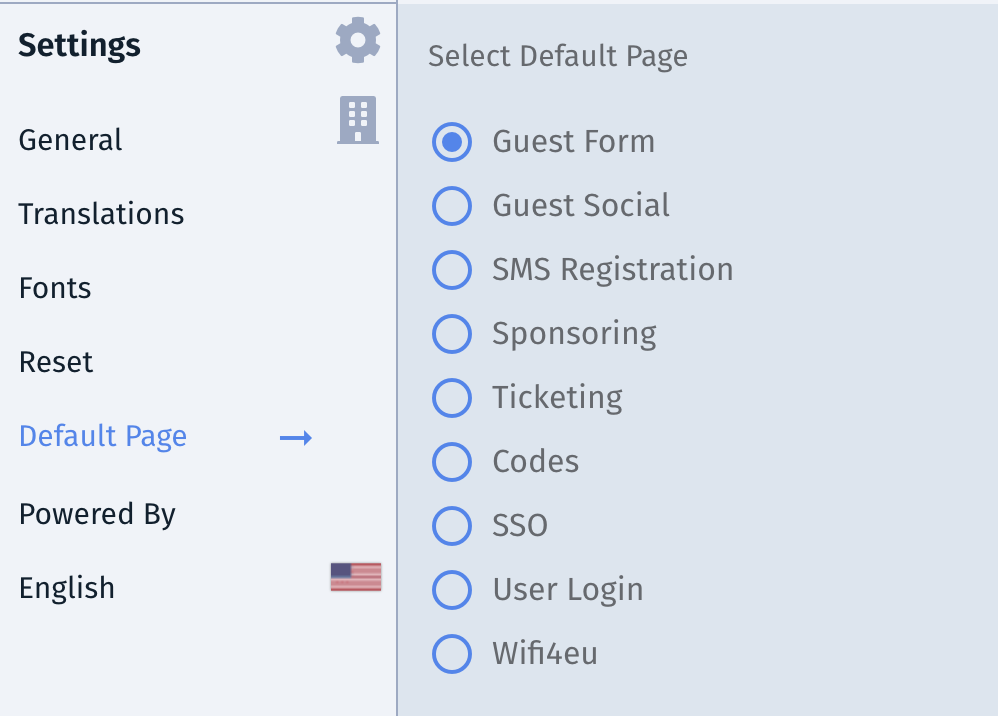 This is where you choose your authentication method. The box ticked here will be the type of authentication that is used for your network so make sure it is selected correctly
Step 2.3 | Preview Your Splash Page
Once you've selected the authentication method, let's see what that will look like.
You can display your selected method by choosing it from the drop down menu as shown in the GIF below.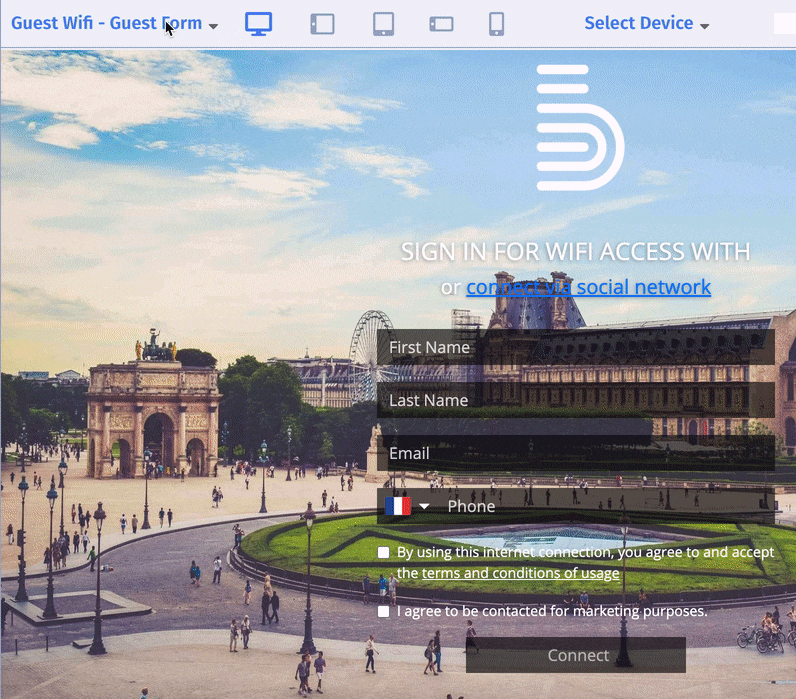 You can also preview what your splash page will look like on different devices.
Watch below as we switch from desktop view to mobile view.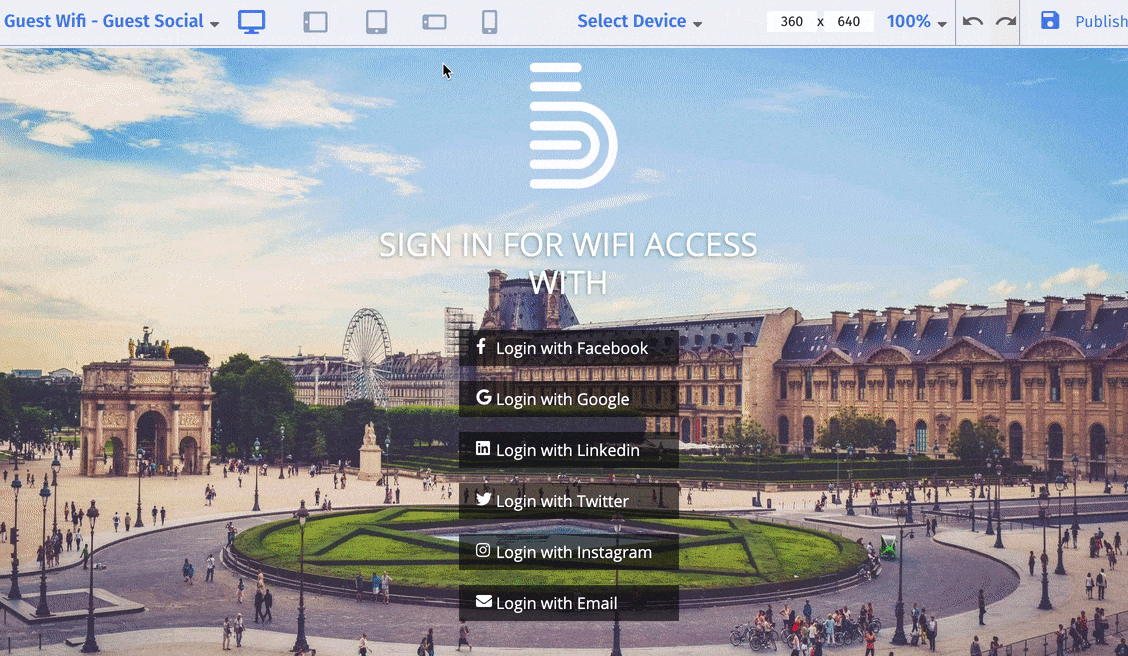 For more precise previews, you can also select exactly which device to view on the Select Device tab.
Step 2.4 | Upload terms and conditions
Next, let's take a look at how you can upload your own terms and conditions directly onto the platform.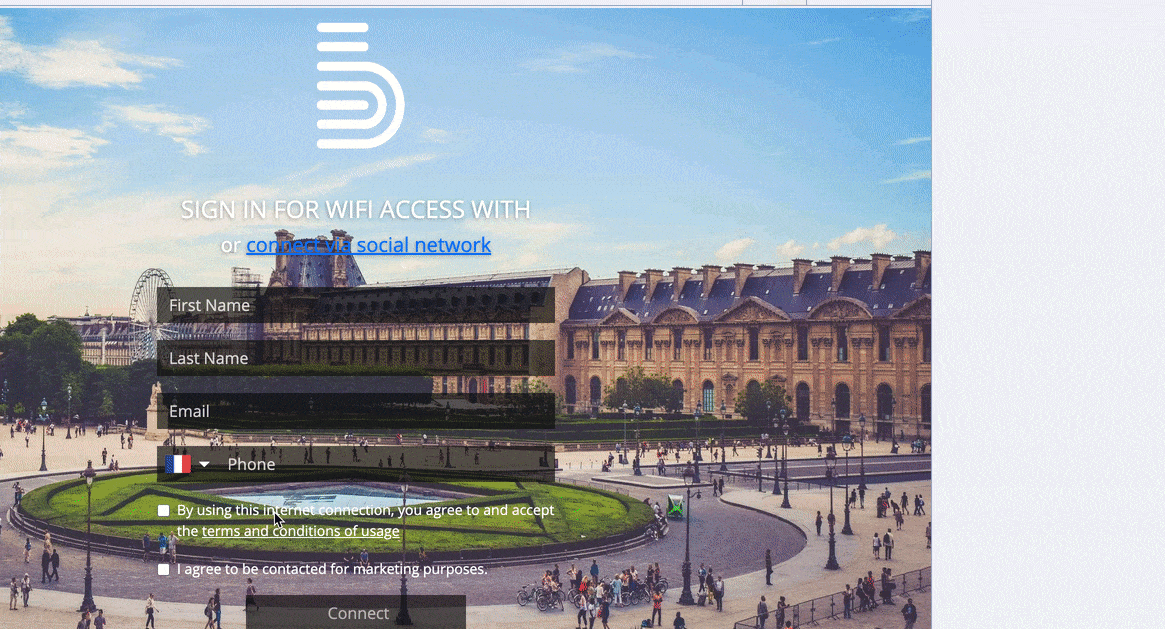 Simply click on the field, and through the toolbar you can paste your terms and conditions directly into your captive portal!
And with that done, you've covered most of the important tools you'll need to know.
Here's a few more cool features included in the configurator:
- Change logo
By clicking on the logo at the centre of the screen, you can upload your company's logo from the tools menu.
- Change field order
Simply drag and drop the fields to change the order they appear in, or press the cross next to the field if you wish to remove it.
- Edit text / typology
You can edit the fonts, formatting and text in each of your displayed fields by simply clicking on the field and using the tools menu.
Conclusion
This articles covers almost everything you need to know for creating splash pages. There's a few minor things we didn't go over, so we suggest playing around with the tool yourself!
If you feel like it's missing some features you need, feel free to reach out to us with suggestions!