Overview
If you are using the Meraki Dashboard, you have probably experienced frustrations with the lack of granularity it has in terms of access controls.
The Boundless Custom Dashboards overcome these limitations as they provide you with more control and granularity over the level of access you can grant to your those accessing your organization.
Follow this article to learn more about the Boundless Custom Dashboards.
Prerequisites
Initial setup
Before using the Boundless Custom Dashboards, you must have previously setup your Boundless account and synchronized the Boundless Platform with your Meraki organization.
Role-based access
Each Custom Dashboard needs to be assigned to an existing user role.

Prior to creating a new Custom Dashboard, make sure that the Role you want to assign it to already exists on the Boundless platform. You can do this from the Roles and Permissions tab.

For more information, take a look at the dedicated Tutorial we have prepared.
Getting started with Custom Dashboards
Step 1 | Create a New Custom Dashboard
To get started with the Boundless Custom Dashboards, you can go to the Network Management Dashboard and click on CUSTOM DASHBOARDS (on the left side bar).
This will open an initial page where you can find a summary of your previously deployed Custom Dashboards, and also create new ones.
Note that if you are using the application for the first time, the summary will look empty.
Click on the New dashboard button.
This will open a blank canvas in which you can start creating your first Custom Dashboard.
On the left side of the screen you will find all entities you can choose to add as a widget to your Custom Dashboard.
The right side of the screen contains the Custom Dashboard canvas. This will evolve as you customize it with new selected widgets.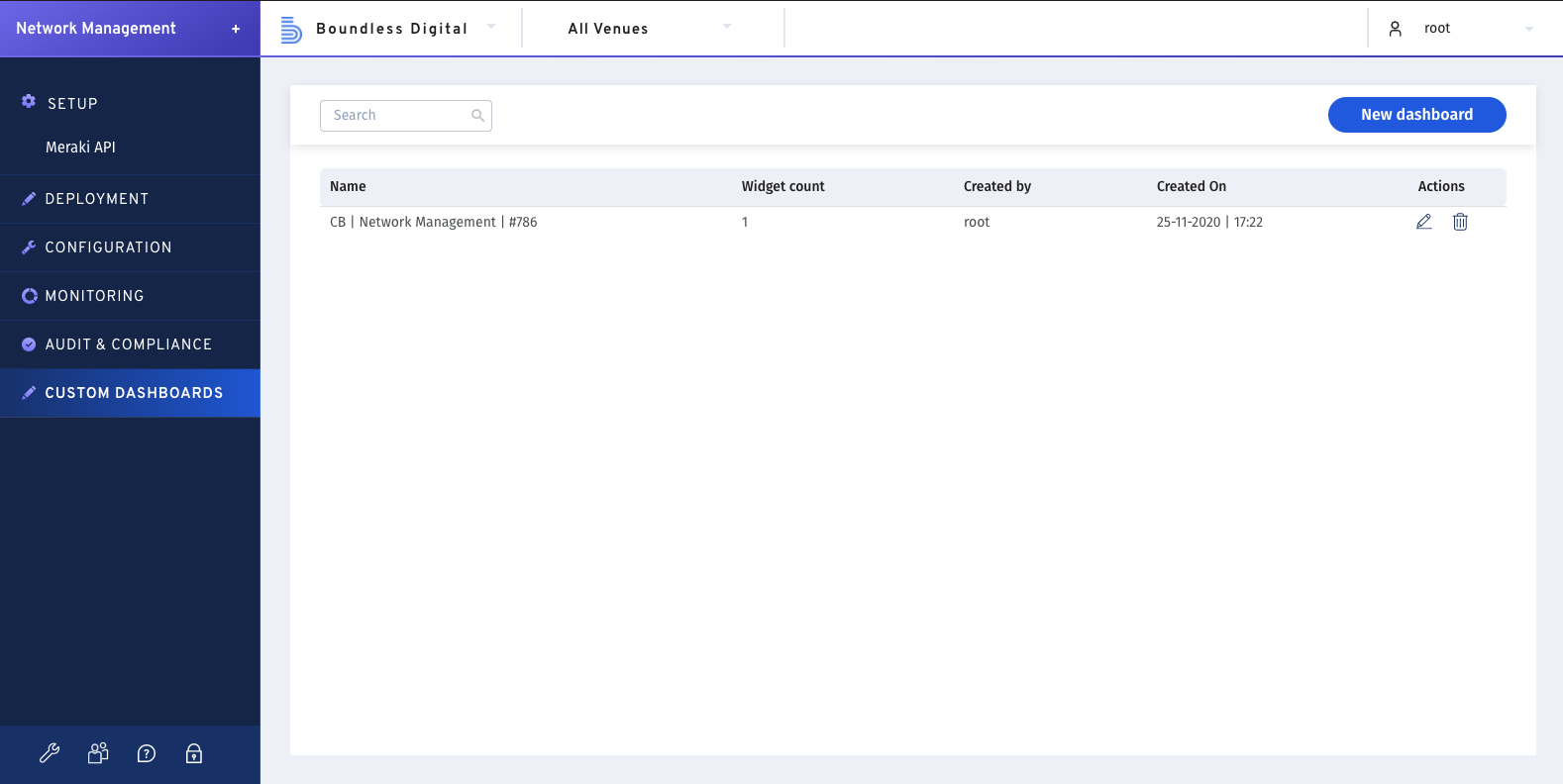 Step 2 | Enter your Dashboard Name
Let's start creating your Custom Dashboard by defining a name.
We recommend you to be as specific as possible on your naming conventions.

For instance, you can use nomenclatures to easily track the deployed Custom Dashboards.

This will help you quickly understand what each of them contains and save you some time in the long run.
Step 3 | Assign a User Role
Each Custom Dashboard has to be assigned to a specific Role.

Roles can be created on the Roles and Permissions tab.
Once the Role is created, just select it from the dropdown list and move on to the next step.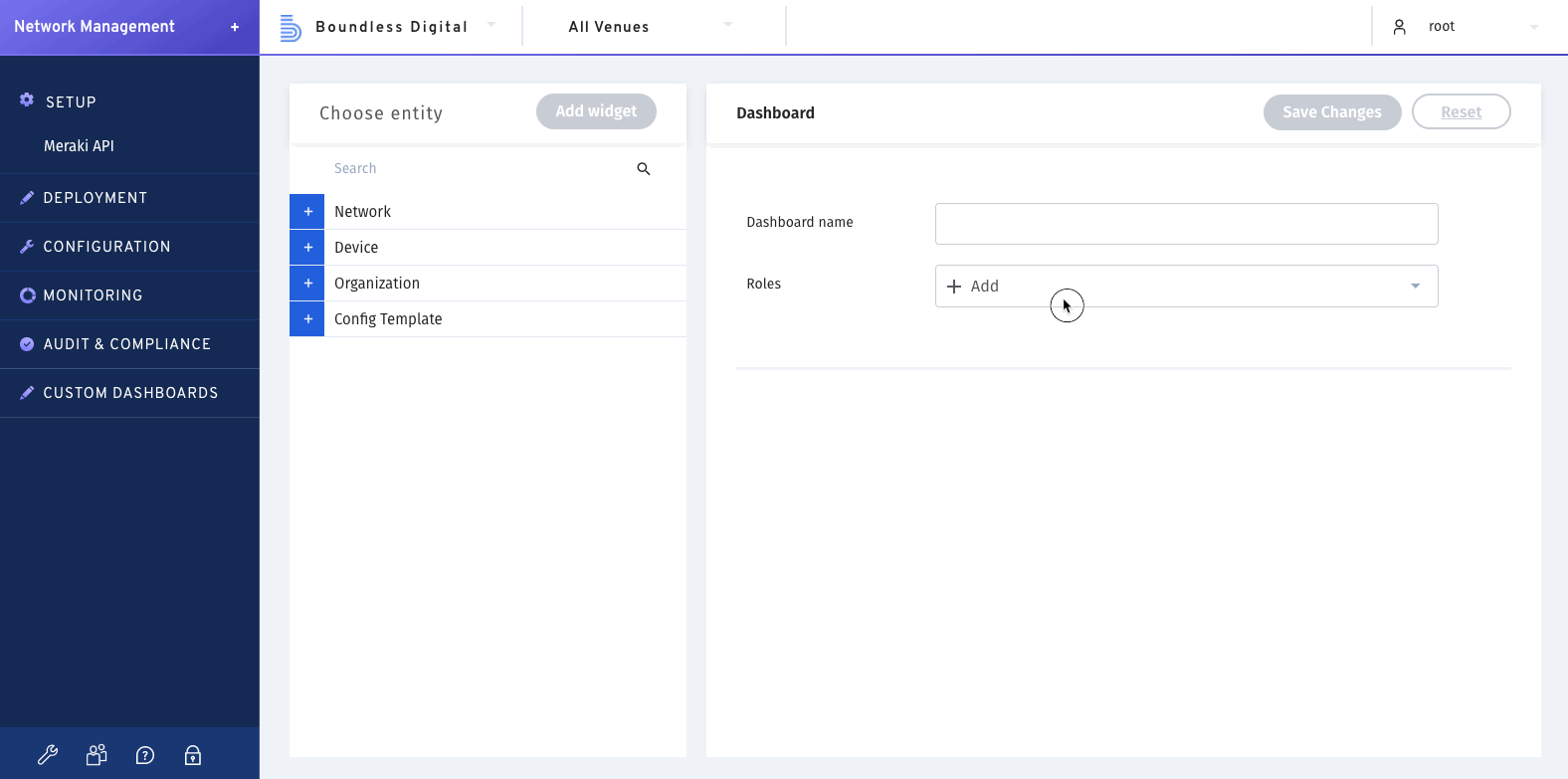 Step 4 | Select an Entity
Custom Dashboards are composed by Widgets, and each Widget corresponds to a specific Entity.
There are currently 4 Main Entities available on Boundless Automation:
Network
Device
Organization
Config Template
These Main Entities break down into multiple Child Entities, which can also be selected as Widgets if you want to provide a more granular access control.
Once you have decided the Main Entity or Child Entity that you would like to integrate as a Widget, select it and click on Add widget.
Step 5 | Customize your Widget
Select the Operations
Before integrating the Widget, you will need to select the Operation(s) that the user can perform on that Widget.
These can be: Create, Update or Delete.


Select the Fields
After choosing the Operation(s), select the Fields that apply to each selected operation.
For instance, if you want your user to be able to Update the network name and tag, but not the timezone, you can just remove this last one from the Field.


Select your Targets
Select whether you want to grant the user access to the full organization or just to specific networks.

If you want to limit the access to one or more networks, type each name on the Target field.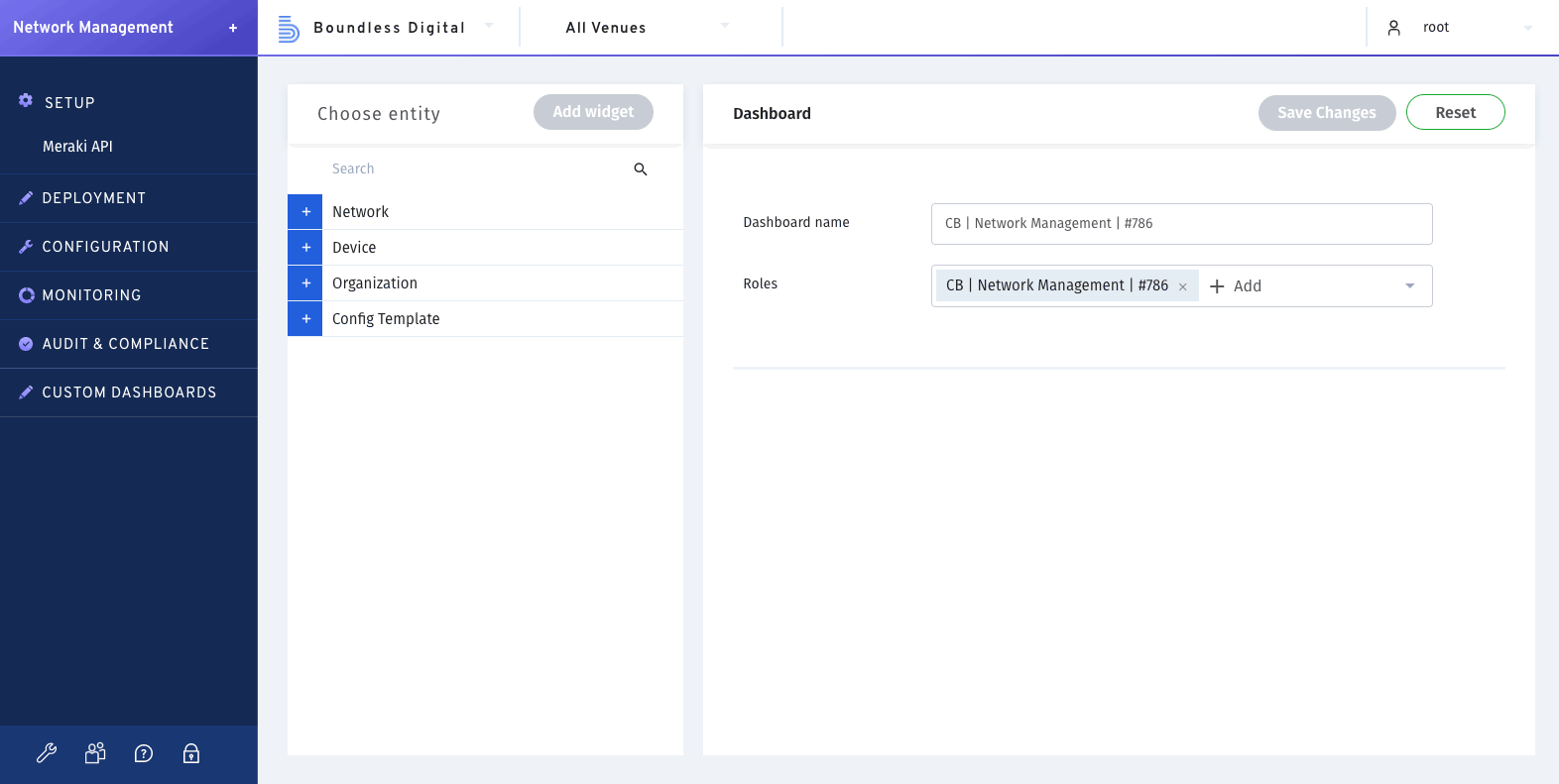 To complete this step, click on Add.

This will automatically add your customized Widget on the right side of the screen.
You can add as many Widgets as you like to your Custom Dashboard based on the available options.
Step 6 | Save your Custom Dashboard
Once you have finished customizing your new Dashboard, click on Save Changes.
This will deploy the Custom Dashboard to all Users assigned to the selected Role.
The next time the users log in to the Boundless Platform using their credentials, they will get access to the Custom Dashboard.